Mixed Messages: Works by Anastasia Osolin & John Cullen
September 22, 2017

-

October 30, 2017
BluSeed Studios is proud to host a joint artist exhibit entitled
"MIXED MESSAGES"
featuring the abstract works of
Anastasia Osolin  and  John Cullen
You are invited to a special opening reception on September 21, 2017 5-7 PM.
Exhibit will run September 22 through October 29, 2017
ANASTASIA OSOLIN       www.anastasiaosolin.com
Originally from the Washington DC area, Anastasia Osolin has a B.F.A. in Illustration from the School of Visual Arts in New York City, where she studied painting, and fell in love with the Dada and Surrealist art movements, especially the work of Joseph Cornell and Remedios Varo. Anastasia's lifelong devotion to her other great love—books—led to an apprenticeship in bookbinding and restoration with Robert Colver of Ram's Head Bindery in Durham, NC, where she learned a variety of conservation techniques. Since 2000 Anastasia has worked as a freelance specialist to the antiquarian book trade, giving new life to ailing books.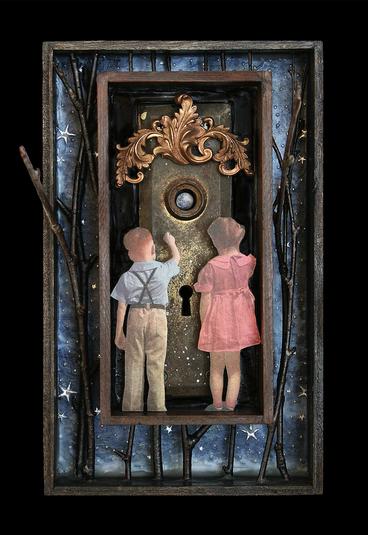 As an artist Anastasia is primarily motivated by an enduring fascination with all things old and peculiar. She spends a disproportionate amount of her time making collages and assemblages from a wide variety of found objects and imagery, drawing inspiration from (among other things) the history of science & astronomy, mysticism, art history, Victorian ephemera, and industrial decay (i.e. just about anything old and rusty).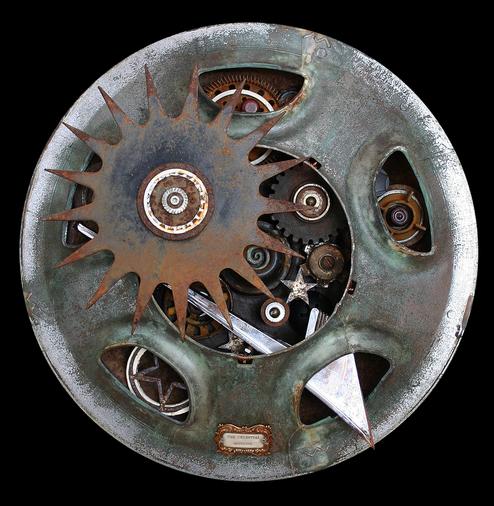 Anastasia's artwork may also be seen on Facebook, on the walls of the Adirondack Artists Guild in Saranac Lake, NY, and occasionally in the pages of Adirondack Life magazine.
Solo exhibits in 2017 include Lake Placid Center for the Arts (a joint show with photographer Carl Rubino), View in Old Forge, NY, Saranac Lake's NorthWind Fine Arts, and BluSeed Studios.
JOHN CULLEN          www.abstractvenues.com
John is a professional fine artist and educator. At age eleven he knew his future path. In high school he was the class artist. He continued drawing and painting for several years and after a stint in the Army he attended The San Francisco Institute of Art. Since 1952 that path became more directed when he spent the summer on scholarship at the Wayman Adams Old Mill Art School in the Adirondack Mountains of northern New York State. In 1963 he began a fine art program at the Newark School of Fine and Industrial Art, graduating in 1966 with a diploma in Fine Art. Afterwards he pursued a B.S. in Art Education at New York University completing that in 1969. From there he went to Pratt Institute achieving his M.S. in Art Education and Painting in 1970. While at Pratt he studied with Ralph Wickiser, Joachem Seidl and George Peters who was his advisor. Also at Pratt he was an intern teacher in Life Drawing.
His first teaching job was as an art teacher at East Side High School in Newark,
NJ in 1967. He then taught art appreciation and art history at Middlesex County Community College in Edison, NJ for two years while working on his masters degree. After a brief hiatus from teaching he taught art in the Syracuse Public Schools from 1976 until 1995 when he retired. Another seven years of painting and drawing went by before he started teaching again. In 2001 he was offered a position at the Vero Beach Museum of Art teaching Basic and Advanced Drawing. He continues to teach these courses along with a course in Mixed Media and Colored Pencils. His students are adults at various levels of experience and skills.
His gallery affiliation began at the Hanover Gallery in Syracuse, NY. Concurrent with this he became a member of Associated Arts of Syracuse showing and selling his paintings. This was a very fruitful experience through which he achieved several important awards in juried regional shows culminating with the prestigious Gordon Steele Award at Cazenovia College in 1987. At this time he became associated with the Old Forge Arts Center showing and winning awards of distinction and First Place Awards that continue even up to
recently.
John is a past vice president of the Adirondack Art Association where he has exhibited his work over the last 10 years and has sold many paintings. He was also a board member of the Cultural Resources Center of Syracuse, NY from 1996–1998. Besides being on the faculty of the Vero Beach Museum of Art he is also a participating Museum member. Recently, John was invited to critique paintings from the 29th annual National Watercolor Exhibit in Old Forge, NY, called the "Walk-About" before an audience of 100 artists and guests.